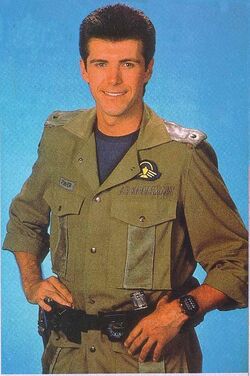 "Captain Jonathan Power: Don't ever say that Christine, not even as a joke. Never say a machine is more important than a human."
Captain Johnathan Power - Without powersuit
PL: 8
Abilities:
Str: 2, Sta: 2, Agl: 2, Dex: 1, Fgt: 6, Int: 5, Awe: 2, Pre: 5
Powers:
None
Advantages:
Accurate Attack, Benefit 6 (Captain), Equipment 7, Favored Foe (Constructs),
Improved Disarm, Inspire 1, Leadership, Luck 1, Quickdraw, Ranged Attack 3, Redirect, Setup,
Taunt, Teamwork
Equipment:
PoleStaff: Strength based Damage 3 (Flat: Reach) (4),
Power Blaster: Ranged Damage 6 (Extras: Multiattack, Flat: Penetrating 6) (24),
Starbit: Ranged Damage 2 (Flat: Burst 2, Multiattack 1) (7)
Skills:
Athletics 6 (+8), Deception 4 (+9), Expertise: Soldier 6 (+11),
Expertise: Tactics 4 (+9), Insight 2 (+4), Investigation 2 (+7), Perception 4 (+6),
Persuasion 4 (+9), Ranged Combat: Energy Weapons 6 (+10), Stealth 4 (+6),
Technology 4 (+9), Vehicles 8 (+9)
Offense:
Initiative: +2, Unarmed: +6 (Damage 2), Power Blaster: +10 (Damage 6 ),
PoleStaff: +6 (Damage 5), Starbit: +4 (Damage 2)
Defense:
Dodge: 7, Parry: 6, Fortitude: 5, Toughness: 2, Will: 10
Abilities: 50, Powers: 0, Advantages: 27, Skills: 27, Defense: 16 = Total: 120
Complications:
Honor: Believes in the Sanctity of all life and will not kill.
Notes:
Captain power is the commanding officer of the soldiers of the future. He technically
has the rank of a colonel rather than of a Captain. He's called a captain due to being in command of
the jumpship. Johnathan Power has spent his early life training in preparation for the day he would
fight BioMechs during the Metal wars. His Father Doctor Stuart Powers died saving him from Lord Dread.
Johnathan Power has sworn to defeat Lord Dread ever since that fateful day.
Captain power is sort of a jack of all trades. He's not particularly specialized like his teammates.
In return he can cover their assigned duties in a emergency. He's does not specialize in any
particular weapon or fighting style either. Captain power is a very versatile character and is a good benchmark for the rest of his team.
These stats can also be used for Lord Dread if needed. Lord Dread is similar enough to Captain power in terms of stats. The primary difference being that Lord Dread is a cyborg with immunity to fortitude. Lord Dread was also more of a scientist than a fighter. So feel free to reassign physical skills for scientific ones.