Jaymie
Location:
Millenium Mall
Condition: Aloof
HP: 1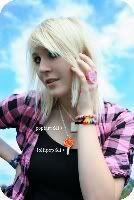 Jaymie had been a duality for this trip, playful and talkative, yet every once in a while you'd catch just a hint of something, and something serious by the look, on her face... until she noticed she was being looked at and she'd be happy-go-lucky again.
She was about to join in the conversation with Mark and Steven when the lady walked up to them
"Nothing more for me, watching my weight."
she said, even though the two boys knew she could adjust that much like her height and appearance with but a thought, it was a convenient excuse to let the woman know she didn't have to pay attention to Jaymie anymore.
Once the woman left, Jaymie began
"I'm not sure, I've been thinking about it too, but... we have these powers yeah? Is it irresponsible to not use them to help if we can?"

"Oh and side-note if we do a charter: 'Shift' is probably -not- what I'll be going with Mr. Slushy, 'k?"
she said while giving Steven a glare, though it was clear she was in a joking mood.