*Prologue*
-The Watchtower Mark 5-
- April 1st, 4am, Metropolis Time Standard-
Dick Grayson watched the world below them from his Watchtower Quarters Window. The Lights of North America creating a shimmering and beautiful effect to outline the continent as he took this moment to appreciate what they spent so long fighting for.
His most recent mission had been exhausting and now that it was over, part of him wanted to hit the showers and move to join the tamaranian shaped lump he had found under the covers of his bed when he had come in.
But as Nightwing had learned long ago, there were responsibilities that always came before personal preferences, responsibilities that had more than doubled in number between his accepting Batman's Role in the Justice League and his insistence at personally overseeing the Titan's Next Initiative. Compromising with himself, he turned away from the view port and closed it with the push of a button, removing his mask and sitting down at the console desk with his eyes fixed on the scanner mounted on the computer.
' Identification- Nightwing == Confirmed - Level 1 Clearance Granted '
*click*
' Titans Next Project File Opened- Select Chapter'
*click*
"Chapter One- Teen Titans: Jump City. United States of America.

Current Roster TT-O1 : Team Leader : Wonder-Girl-01,
Members: Super-boy-02, Miss. Martian 02, Alter 04, Artimis05
Nightwing could hardly believe it had been almost six years since he had first set up this file. Since the ball had started rolling on the Titan's Next and had at this point grown into something spectacular. And here, four out of five of those original 'new' titans were… having conquered all foes and garnering the respect of everybody on the Watchtower.
It was the end of an era, and with a heavy heart that reminded him of when he himself had left the Titans for the responsibilities of the Justice League, he his hands moved across the holographic keyboard.
Everybody had known it was so for months, the Titans had already left the 'ruins' of Titan's Tower (devastated in their last battle with the Cult of Hades) behind and all of the ceremony was out of the way. The only thing they had been waiting for was the date to make it official. And with Wonder-Girl's Twentieth Birthday officially making her eligible, the rest of the team that refused to move on without her would do what they had spent the last five months preparing for.
'Status Change'

Wonder Girl : Age 20 -Justice League Level 4 Clearance : Granted
Superboy : - Age 20-Justice League Level 5 Clearance : Granted
Miss Martian : - Age 21-Justice League Level 3 Clearance : Granted
Artimis :- Age 20 -Justice League Level 5 Clearance : Granted
Alter ( Kai Shu-Ran) Age 17 - New Assignment, Team Leader: Titan's Orient '
With a moment to look it over, Nightwing Confirmed. Changing the Status of Chapter One to 'Inactive'
It would take a month to rebuild Titans Tower to be back to 100% Operation, Nightwing knew. But by morning, every Side-Kick, every Titan, every single young hero who wanted to join the Justice League would know that for the second time since it's founding, the Original Teen Titans had an empty Roster waiting to be filled.
---------------------------------------------------------------------------------------------
-Titan's Tower, Jump City Bay-
- May 5th , 8pm, Pacific Time -

"It's finally Finished, Nightwing."
Meegan smiled, looking out the common room window next to the elder hero, who had spared the time to oversee the last systems of the Tower coming online and ensuring that it had been completed exactly as Cyborg had designed it.
"It's even better than before… I almost regret that I won't be living here anymore."
Nightwing smirked a bit, not turning to look at the green skinned 'Miss Martian' as she joined him in watching the spectacular sunset to the west over the oceans horizon.
"There are a lot of memories in this place…"

"Feeling Nostalgic, Nightwing?"

"Maybe a little…and how many times to I have to tell you, Meegan, we're both Leaguer's now. Call me Dick."

"I can't… too many years listening to Conner call you that behind your back."
Meegan said apologetically, closing her eyes and rubbing the back of her head a bit as she felt a sweat drop along the side of her face.
Nightwing didn't say anything, trying to calm the vein throb that at his temple and keep from gritting his teeth.
Quickly thinking the best idea was to change the subject, Nightwing let all of his anger at the comment go in a short breath.

"You know, someone else could keep an eye on this place. What with Conner and Cassie throwing themselves into League Work, you don't have to stay behind."

"No, this is something I want to do. This place has given me so much, I just want to make sure that the new team has every opportunity that you and Starfire gave me. Any idea who we're going to get in here yet?"

"No, although we certainly have plenty of recommendations and applications. I still have to finish sorting though them all. I knew Chapters 11 and 12 would all come to call, but I didn't think that the whole league would start jumping on this and asking me to 'consider' their various finds and protégés. I've got the next few hours off, So I'll try to narrow it down. Figure out who will gain the most and work out best here."
Meegan nodded, having several recommendations of her own, but not wanting to try to put any more 'influence' than was already being exerted on Nightwing for who would take the place on the coveted team. If somebody had told her Seven years ago that she was going to be where she was now, she would have never believed them.

"So… How's Star?"
Meegan found herself asking, a grin that reached her voice failing to impact the normally perceptive Superhero.

" Kori? Oh, She's been fine, Her eating habits have been a little off lately though. Tobasco yogurt was bad enough, but now she's mixing it up with things like lemon-scented lotion and fudge pudding pops. I honestly thought she was over those cravings."
At the word 'Cravings', Meegan smiled a bit wider, growing quiet as they watched the sun set behind the horizon. While his mind was on the long list of possible applicants and interrupted by memories of Beastboy and Cyborg chasing one another with the Stankball, Raven screaming at them to keep the noise down, and Starfire going though another Jar of Mustard as if it were soda, Meegan was wondering how such a great detective could be so blind to what was staring him in the face in his present personal life.
-------------------------------------------------------------------------------------

-The Watchtower Mark 5-
- May 7th, 1am, Metropolis Time Standard-
Another Emergency confronted and defeated, again Nightwing sat at his computer terminal, his eyes burning as he tried to go over the selection process, striving as much as he could to avoid showing favoritism while he considered the remarks of Meegan and the other members of the Justice League in various titan profiles, trying to put his finger on what it was that made a Team.
And having been at it for nearly three hours now, he found himself half-wishing he was still engaged with Clayface's Protomorph army rather than trying to pick and choose.
It shouldn't have been this hard.
He had his own preferences of course, and as much as he hated to say it, he was indeed listening to what other leaguer's had to say… after all, he had not met ALL of these kids personally and he couldn't with the sort of schedule he had to balance between the League and his role at Wayne Enterprises.
But this had to be done… and as much as he tried to tell himself it wasn't a mark of favoritism, the mouse scrolled straight to one file over all of the others.
"Owl" - Current Assignment, Raven Guard Member TT- 08. Combat Training/Magic Training. *Several side notes open, several written up by Nightwing himself praising her drive and self-determination*

'That was one'
He thought, moving the file into the empty field, as he considered who's advice was the most meaningful to him. The answer was simple, and there had been only one file that his Adoptive Father had commented on at all.
"Deuce" - Current Assignment, Titans Reserve Member 13. Telekinetic/Telepathic. "Warning- Omega-Priority" *A several reports on her progress by her mentors opens on the file, and one in particular that catches Nightwing's eye: * "She can do some good" - Batman - Senior League Member #2.
Dick hesitates for a moment before moving the new file into the Titans Roster (After all, if he couldn't trust Batman's Judgment, whose COULD he trust) and then starts to shift though others*
"Glory Hound....
*disregards file*...
Issues with Authority..
*disregards file* ...
"Sable" - Current Assignment, Titans Reserve Member 22. Technopathic

"Well, hello there. I guess Victor dragged you up here to, Lupe... well, this will make Cyborg happy, and at least all that garage space will be put to use this time…. "
He felt he was on a roll as he suddenly remembered a conversation he had a few weeks back with another good friend and former 'young' hero: Static.
"Alright Virgil... Lets see what it says about…"
he routes around and finds the file he's looking for
"Garen MacArthur: Alias: Amp, Lightning Lad, Kid Static, Bolt, Storm, Double-A, Wattage, Thundar *list goes on for nearly a page* Current assignment: None (associations with League Member Static refuted). Powers - Electro-Kinesis, Varying degrees of Magnetic-manipulation
There were several notes there from Static, Gear, and a few from Meegan, who had personally interviewed Garen when Static had brought him onto the Watchtower. He was new to the scene… but Robin couldn't let that be a strike against him considering his history.
He knew that some might complain about this assignment, but it didn't stop him from following Static's and Meegan's recommendation and moving him into the list.

"Sorry, Owl. But this is all part of being a team. Here's hoping his enthusiasm pays off."
That left one more.
Who else... Raize had the experience, but Howler had seniority with Titans North. Just as well, basics are covered... Tech, magic, Enthusiasm, even psionics... But what could round that out.

"I have a recommendation...."
A new, clarion clear voice started, jarring Nightwing from his contemplation as he turned with a bird-arang in his hand, ready to snap it out at the first sign of danger.
But there behind him, stepping out of an ankh shaped window of pure light was the Helmeted Gold and Blue Clad figure of the Sorcerer Supreme.
This was a first. While he was indeed a member of the Justice League, Dr. Fate did not often leave his hidden tower on his own accord unless there was some sort of magical emergency that was about to assail the League.
A fact not lost on Nightwing in the fraction of a second it took him to regain his composure

"Fate? Okay, it takes alot to sneak up on me, but…"

"Nights."
Dr. Fate interrupted, his tone direct and clear, making sure that there was no misunderstanding.
Nightwing raised an eyebrow.
Dr. Fate had never shown any interest in the Titans. Even the magical adepts that they had come across tended to gravitate towards Raven, Zatanna, or hell, even Jason Blood for a few of the darker ones.
And the fact that he didn't have this particular young hero on his files was….
Wait a minute.
"Wait, Nights? That 'thing' you found in England a few months back? Fate, she's an unknown. The League isn't even sure what to do with her. You've said yourself that she shouldn't even 'BE' in our world and Zatanna said..."
Dr. Fate's expressions were completely hidden behind the golden mask, but Nightwing could almost sense the moment of frustration that was rolling off of the Sorcerer Supreme.

"Richard Grayson…."
He started a bit harshly before taking a breath and taking on a less confrontational tone.
"Dick...This is important."
Nightwing furrowed his brow.
Other mentors and Leaguers had been a bit insistent, perhaps even direct in their opinions, but nobody had gone so far as to take that sort of tone with him. Come to think of it, NOBODY spoke to him in that tone unless they were a new egomaniac looking to take over the world over his cold dead body.
It immediately put him on the offensive.
"Look, you found her in London right? Well, in Six months, Harrier is going to try and apply for League Membership, then if she wants it, Nights can take up at Titans UK, but I can't just gloss over at least seven other well qualified…"
With an authority that Nightwing had only heard in the voice of two other men, His Mentor… and the Founder of the Justice League itself, Fate cut him off again.

"Qualifications did not bring the League together, Dick... Nor your Original Titans."
His tone again had that hard edge, but with a magical, reverberating quality that reminded him of Raven when she used to channel her anger.
"I think you're forgetting the part that 'Fate' plays in such things."
Nightwing was unmoved and unimpressed. But more than anything, he was suspicious.

"What are you not telling us, 'Nabu' ?"
Dr. Fate did not answer immediately, his glimmering white eyes attempting to peer into Nightwing's mask, apparently without success as he stepped back suddenly.

"Focus instead on what I am telling you now. My recommendation is made. Disregard it at your Own Peril "
The Sorcerer Supreme lifts his arms with a sudden flair and swept out of the room in the flash of a golden ankh*
Nightwing sat in silence for a moment.
He didn't like this. Didn't like being asked to do something and given only vague, subtle warnings. The defiant, rebellious streak in him almost wanted to turn around and choose another candidate simply to contradict the mage.
But if there was one thing he had learned in his years of friendship with Raven, it was not to take the concerns of such a being lightly. He didn't like it.... But he knew better than to argue with the Agent of a Lord of Order.
So turning back to the computer, he pulled up a new window and searched the JLU's database, using his high level clearance to import the relevant files into a new file.
Inputting New Profile: Titan's Next Initative -
"Nights": Name Unknown, Age Unknown. Abilities Undefined. Assignment: ....
He knew he was going to get grief over this.
"Nights": Name Unknown, Age Unknown. Abilities Undefined. Assignment :Teen Titans. Member 05
And with that, it was all in motion
------------------------------------------------------------------------------------------
TEEN TITANS NEXT!
*dark screen*
"-Next"
------------------------------------------------------------------------------------------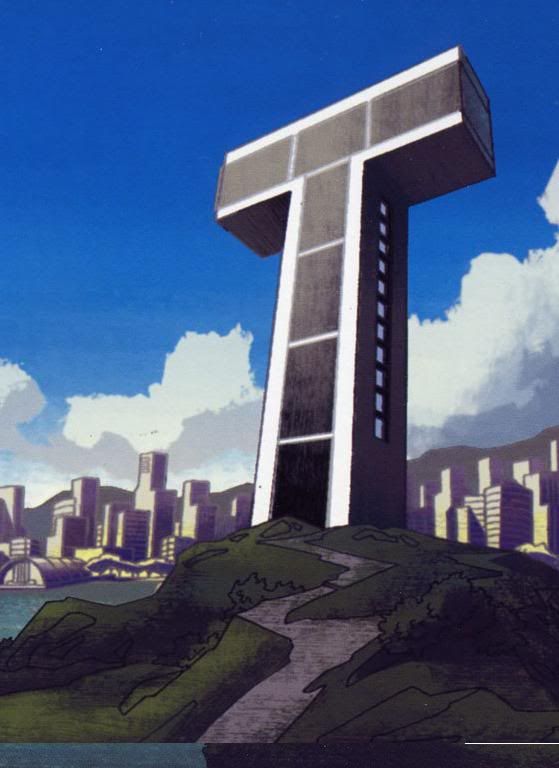 -Titan's Tower, Jump City Bay-
- May 15th , 9am, Pacific Time -
The fog breaks as the sun rises over Jump City and the golden, one-way Meta-Glass windows of Titan's Tower are almost enough to blind the four young heroes standing outside the main entryway, still shaking off the vertigo caused by the Watchtower's Teleportation system.
They were here, it's not a mistake, or a dream. These may be strangers beside you now, but as you've been informed and introduced, you're all now Titans… set to follow in the footsteps of the likes of Robin, Superboy, and…
The Doorway opens upward, an automatic sliding door revealing two figures moving out, one walking casually and engaged in conversation with a floating, purple… wait, what 'IS' that? Certainly not a robot or a Person, it floats along casually next to a woman with dark green skin and brown hair, quite a few years older than all of you, but you recognize her just the same from her black bodysuit with the red 'X' over her torso to the blue cloak.
Miss Martian, One of the Previous Teen Titans
perception 20 to hear the following in a whisper

Miss M:

"…And it's been programmed to give visual 'and' audio instructions to voice commands, just ask what you need to know and follow directions, you should be fine."

Nights:

"You won't tell anybody, right?"

*sounds worried*

Miss M:

"No, Dr. Fate explained the situation… he also said you get a little shaky when this happens. Are you going to be alright."

Nights:

"Yeah, I just need to settle in, I don't like being 'moved'."
The two finally come up and Miss Martian nods with a warm smile.
"Good Morning new Titans. Welcome home. For those of you who haven't met me, my name is M'gaan, and I'm here as your Justice League Liaison. Now before any of you ask, I am not here as your babysitter or supervisor, My job is just to check in every once and a while to make sure that you're alright and to evaluate your progress and if you need me, I can be reached 24/7 with a 'T-Com' which you will all receive before I leave. I know you're mentors and friends have informed you of some of what's expected and I'm not one for speeches, so I'll just skip straight to the tour."
Coming up to you, the 'girl' (at least you think it's a girl) with the odd purple headpiece looks nervous before floating over to join the rest of you.

"Oh, and I know the rest of you have all been introduced, so 'This' is Nights. She had a few things that had to be moved into the Tower before everybody else arrived…so let's move on with the tour."
Miss Martian answers questions and proceeds to show you the various areas of the Tower, Including the Lower Level Garage and a full Tech-Workshop, a Submarine Bay (complete with an ACTUAL Submarine), Medical Stations with several assistant Droids (courtesy of Wayne Robotics), a Training Gym, Living and Guest Quarters, a common room with a fully stocked kitchen and multiple other amenities, the Evidence Room (which includes 'recovered trophies from the previous two team's adventures.) and a helipad on the roof for emergencies.
"Alright, and if there is nothing else, I need to return to the Watchtower. Now, once a week at random I'll check in with everybody, but aside from that, Titans Tower is yours. Keep up your studies to par and any time you're not on assignment or patrol is your own."
She produces several palm-sized half-orbs, each black and emblazoned with a 'T'. They look like they are self adjusting in size to be 'placed' onto or into your outfits as you see fit, which should be simple wince the flat part of the half-orb has a thin membrane and adhesive on the back.
"And these are for you. You can wear them however you like, but you always need to have either one of these or a hand-held communicator with you any time you leave the tower. "
Post any thoughts upon entering the Tower and an idea of what you do for your first week of interaction with one another. Relationship building Montage time: PP will be awarded for awesome RP posts and playing off one another. Also, Sable: You have no trouble noticing that all of the tech and hardware is state of the art new, including the coms.