Martyr - PL 11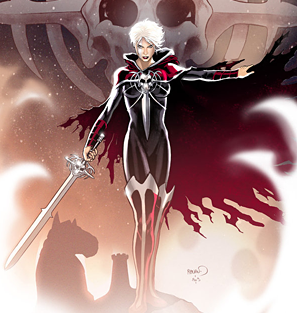 Strength 7, Stamina 6, Agility 4, Dexterity 3, Fighting 10, Intellect 0, Awareness 2, Presence 0
Advantages
All-out Attack, Close Attack 2, Defensive Attack, Defensive Roll, Equipment 1, Improved Critical 3(1 base): Swords, Improved Initiative, Power Attack, Ranged Attack 4, Takedown 2
Skills
Expertise: Cosmic Lore 6 (+6), Intimidation 9 (+9), Perception 3 (+5), Ranged Combat: Energy Blasts 5 (+8), Technology 1 (+1)
Powers
Energy Sponge: Blast 10
(DC 25; Variable Descriptor 2: broad group - Any Energy Used Against Her; Fades)
. .
Energy Absorption: Immunity 20
(Alternate; Very Common Descriptor: Energy; Subtle 2: undetectable; Limited - Half Effect)
Flight: Flight 6
(Speed: 120 miles/hour, 1800 feet/round)
. .
Energized Flight: Flight 12
(Alternate; Speed: 8000 miles/hour, 16 miles/round; Distracting)
Mantle of Death
(Removable)
. .
Sustenance: Immunity 10
(Life Support)
. .
Translator: Comprehend 2
(Languages - Speak All, Languages - Understand All)
Oblivion Sword
(Easily Removable (indestructible))
. .
Ending Slash: Strength-based Damage 3
(DC 25; Penetrating 10, Reach (melee): 5 ft., Secondary Effect [7 extra ranks]), Advantage: Improved Smash
. . . .
Drain Life: Progressive Weaken 8
(Alternate; Affects: Stamina, Resisted by: Will, DC 18; Accurate: +2, Progressive)
. .
Weapon of Death: Enhanced Trait 2
(Traits: Improved Critical 3 +2 (+3))
Equipment
Guardian Uniform [Armoring: Protection 5, +5 Toughness]
Offense
Initiative +8
Drain Life: Progressive Weaken 8, +14 (DC Will 18)
Ending Slash: Strength-based Damage 3, +12 (DC 25)
Energy Sponge: Blast 10, +12 (DC 25)
Grab, +12 (DC Spec 17)
Throw, +7 (DC 22)
Unarmed, +12 (DC 22)
Complications
Dark Temper
: The power of Death has only worsened Phyla's outlook on life and she can be easily angered by those who get in her way. While she struggles to continue her mission to help the universe as a member of the Guardians of the Galaxy, she has found herself being too quick to destroy.
Legacy: Daughter of Mar-Vell
: As the daughter of the Kree hero Mar-Vell, Phyla has a lot to live up to.
Relationship: Death of the Endless
: After her lover Moondragon was seemingly killed in battle, Phyla undertook a quest to return her from the after-life. In the course of this impossible task, Phyla encountered a strange woman with pale white skin and midnight black hair. After accompanying Phyla on her ultimately fruitless quest, the strange woman helped Phyla to come to terms with the loss. Only then did the woman reveal herself to be a psychopomp of Death itself. Phyla's new role puts a strain on the relationship but Phyla considers this version of Death to be a true friend (and perhaps more though Death's infuriatingly chipper attitude makes it difficult to gauge the psychopomp's feelings).
Secret: Empowered by Darkseid
: Phyla owes her life to the lord of Apokolips after he saved her from the Magus and gave her the Oblivion Sword she bears. Those familiar with Apokoliptian technology may recognize that her Mantle is technology from that planet. While Darkseid has seemingly been defeated, it may only be a matter of time before he calls in the debt...
Languages
Kree
Defense
Dodge 10, Parry 10, Fortitude 11, Toughness 12/6, Will 11
Power Points
Abilities 64 + Powers 54 + Advantages 15 + Skills 12 (24 ranks) + Defenses 20 = 165
Background:
Phyla Vell is the daughter of the legendary Kree (and Earth hero) Captain Mar-Vell. Created after her father's death through an artificial process, Phyla only knew him as a legend and grew up to emulate his example. She trained extensively in combat, honing her inherited abilities to absorb and channel energy. When the Annihilation Wave threatened the entire positive matter universe, Phyla joined Nova, Star Lord, and other heroes to fight off the Negative Zone invaders. During the conflict, she took possession of the Quantum Blade, a powerful weapon sharing many qualities with the heroic Quasar's quantum bands. Following Annihilus's defeat, she joined Star Lord in the newly formed Guardians of the Galaxy alongside her lover Moondragon. She helped the Guardians battle the Church of Universal Truth (a fight that would cost Moondragon her life) and was instrumental in ending the Phalanx incursion led by Ultron. But it was betrayal from a close ally that would bring Phyla Vell to Death. The Magus, dark side of Adam Warlock, took possession of Phyla's own Quantum Sword and ran her through before casting her into the dimensional void. Desperate to survive and take her revenge, she called out for help. Unfortunately, she was answered. The evil god Darkseid healed her and changed her into an aspect of Death itself. The Lord of Apokolips would give no answer for why he granted these gifts, only a sinister smile and a dismissive blast of Omega energy returning her to Knowhere. Now armed with the dark Oblivion Sword, she took the name Martyr and rejoined the Guardians to defend the universe. Ironically, she would fight against her own benefactor when he was seemingly defeated by the combined power of the galaxy's heroes.
But now, the incursion of the Many-angled Ones has drawn the Martyr to Earth...