I've never actually gotten around to posting sketches and such of my character concepts on here, which now that i think about it is rather surprising to me.
I've got a number of Character concepts that i've been meaning to create within this game. While i don't have them all drawn out I do have a lot of sketches and one experimentally colored picture of a particular character that is easily my favorite. So without further hesitation, here they are.
Fair warning, most of these are going to be concept sketches of the characters.
Also note that the 2 images that are links were too big to be displayed in posting, probably because i scanned them in at a ridiculous DPI.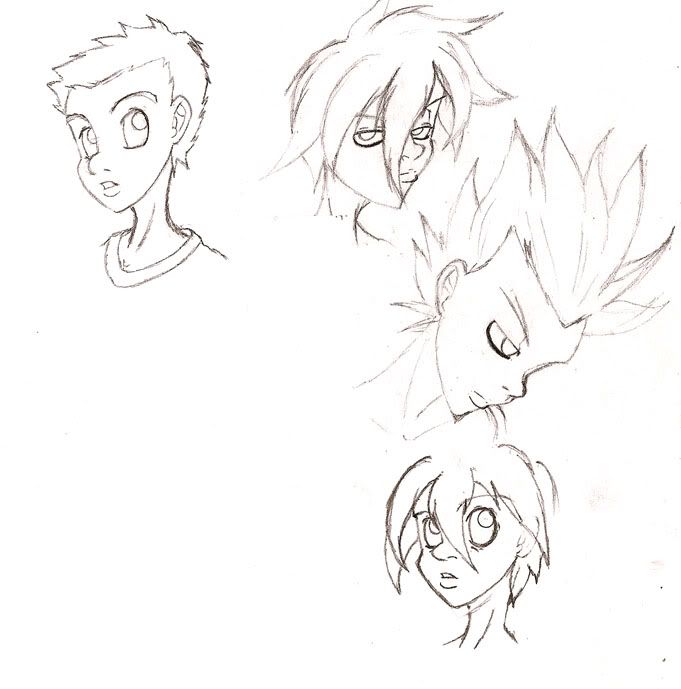 Concept sketches of the head of fore mentioned character. His name is Adam Maday, and if he had to be given a superhero name, it would be Watt. He is essentially a cyborg i suppose though he has more organic parts than most cyborgs would. Earlier parts of the story he's from involve him having a mechanical prosthetic left arm that has the capability of generating electricity in the same way a stun gun does. A number of his internal organs are prosthetic, his left eye, and both of his legs from the knees down. I can go into his character background some other time if people are interested.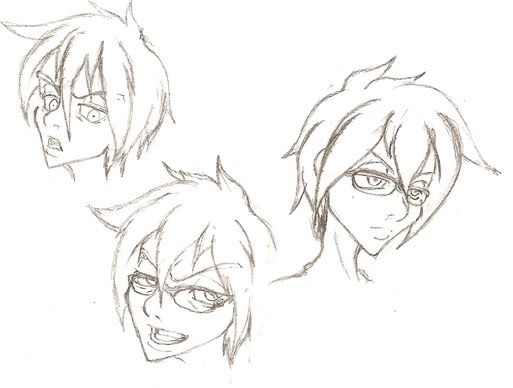 More concept sketches of Adam's head and face. Earlier drafts of the early story involved him being a rather grumpy and anti-social individual but as i thought about it more, that would make it a little difficult for him to socialize with the people in his group and while the anti-hero archetype makes sense to me, I wasn't sure i wanted to use it right away, so i changed his personality for the early story and saved the anti-social Adam for the later part of it. On a unrelated story note, his hair has always been rather tricky for me.
A drawing that would represent Adam better from the later part of the story, though the concept i have in mind has changed a bit compared to what i have here (story is on it's 5th draft or so in my mind, so a lot of changes have been made). Crazy hair from electricity.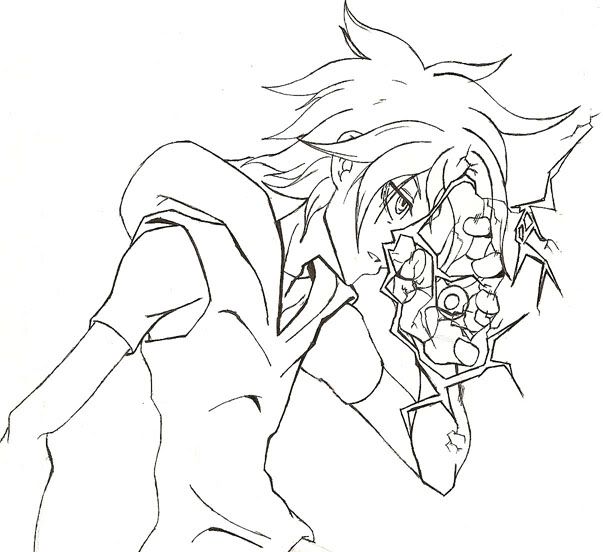 Another picture of Adam that I actually rather like. This shows what his body type is supposed to be like. He's an awkward and skinny youth, not someone you would expect to be fighting. Another picture that would be from the later part of the story (his hair is longer in the later part).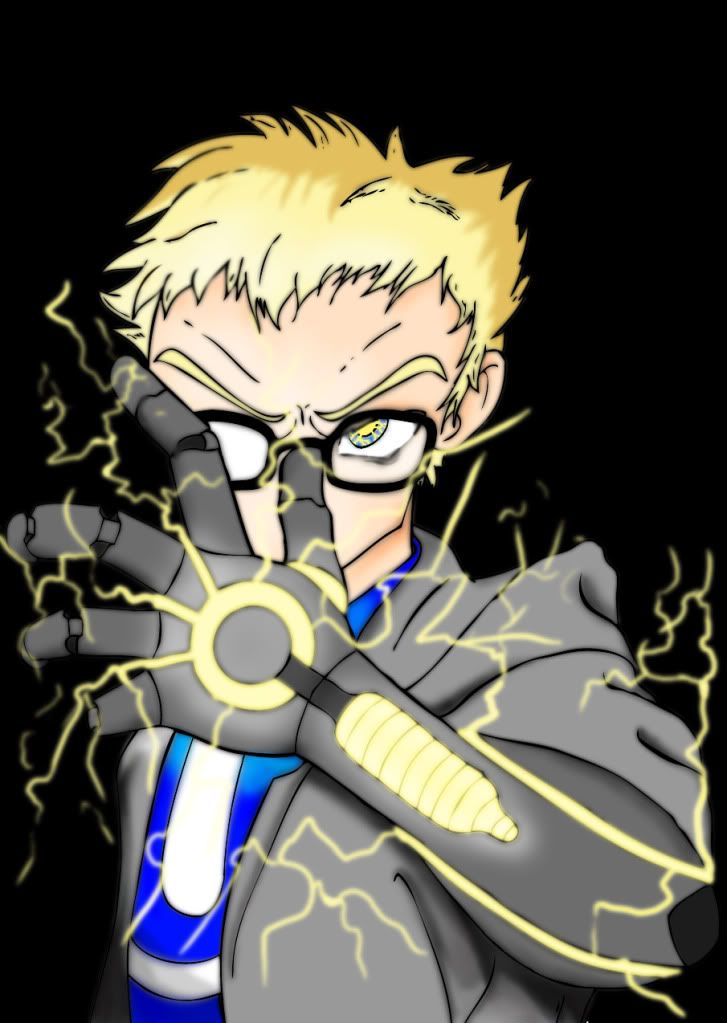 Most recent picture I've drawn of Adam. Drawn and colored as an experimental cover to a comic I intend to draw featuring the story that this and other characters i'm about to post are from. If plans go right, i should have this drawn and inked by January. Planned to be drawn up as a 50 page manga format one-shot comic.

Early concept sketch of another character from that same story. Wasn't entirely sure what I had in mind regarding her personality when i drew this and came up with quite possibly one of the most awkward outfits ever. Her name is Aurora and she uses ice magic. Not exactly the most original there, but whatever.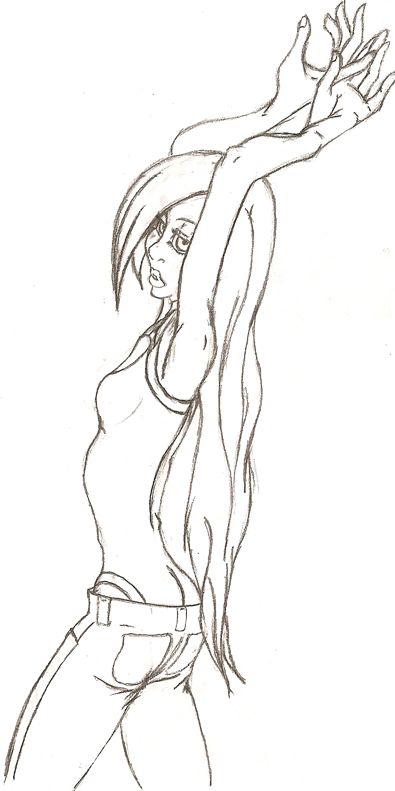 Another picture of Aurora. I obviously have a fixation on skinny and somewhat lanky characters. Not everyone in the story is like that mind you, but Aurora and Adam are special and for some reason i like drawing them like that.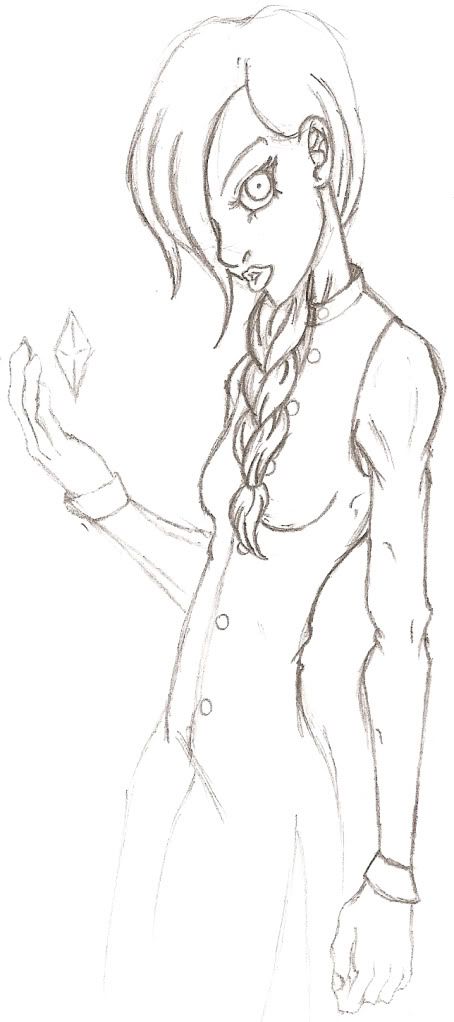 Earlier concept of Aurora in more casual clothes, though I still don't really like what i ended up with. She almost looks amish.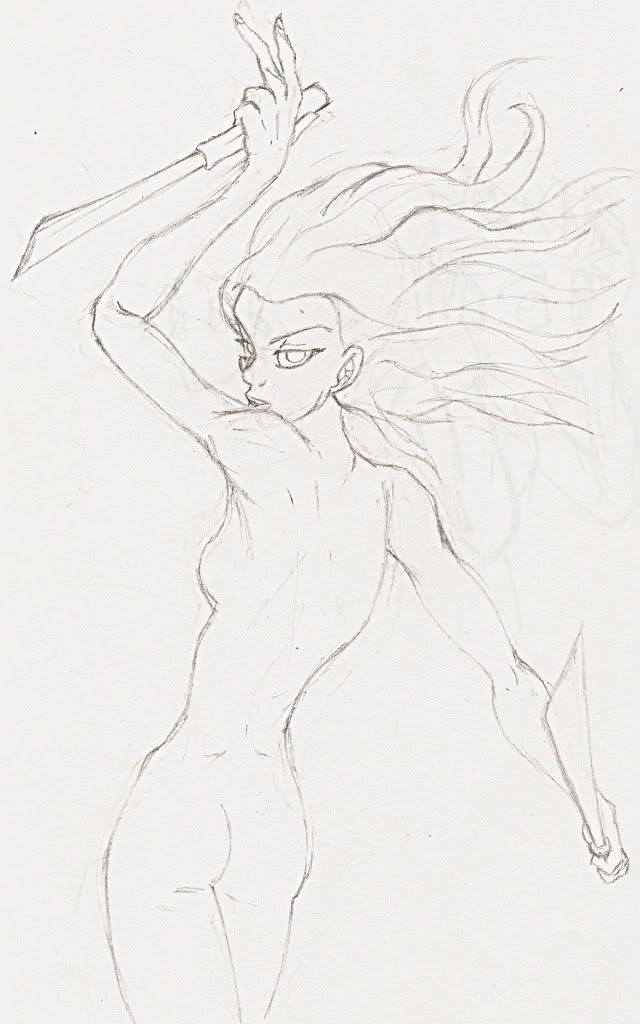 Concept sketch of another character. Her name is Jezra and she is essentially a ninja. Her magic involves her forging weapons or tools from the shadows. More advanced applications of her using this ability allow her to draw the ever popular "shadow clone" out to fight along-side her. Sorry about the kind of nakedness. I have a tendency to draw characters unclothed before drawing the clothes on because it gives me a better sense of them actually wearing the clothes rather than them being a second skin to the character. Never could think of an outfit for her at this point.
http://i278.photobucket.com/albums/kk94 ... urora2.jpg
Picture of Jezra and Aurora I drew for the sole purpose of practicing inking. Aurora's pose is very unstable in this picture, but i don't really care. I think she looks cute anyway and Jezra is giving off the kind of cold beauty look i intended for her to have. Again, i obviously still have not yet moved out of the skinny character thing at this point.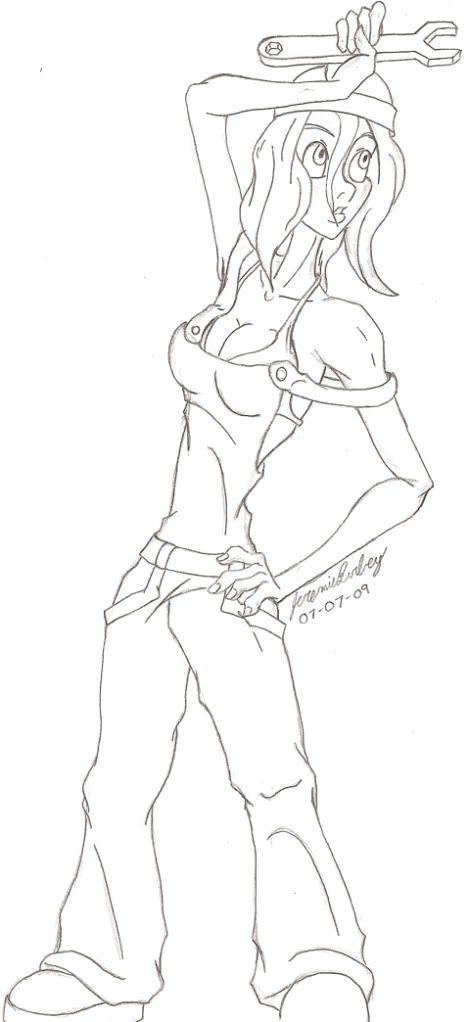 This picture is embarassing for me to show because there are so many awkward parts regarding it, but this is yet another character from the same story. Janelle is essentially Iron Man in this story. She wields a suit of powered armor and fights at Adam's side in the later part of the story. Goes by the code-name Kanthal. I really need to re-draw her and finalize her armor's design.
http://i278.photobucket.com/albums/kk94 ... rRough.jpg
Extremely rough concept sketch of Janelle's armor. Not too fond of it.
There are still a few more concept sketches of Adam I could post, but I think this is enough for now.
Edit: I don't mean to sound rude, but I'm just wondering if I could get some feed back? I have all of these images posted in various places (4 total. Deviantart being one of them, another forum and on facebook) but i have recieved very little feedback and am wondering what people think. Sorry again if i'm being rude, I'd just think that after 2 days and roughly 40 views at least a few people would have comments to share.