Arilyn after some updates. This character ended up going in a different direction than the 'bumbling inept apprentice' angle I had going originally, and she performed competently during her first adventure. I'm still deciding where she's headed as far as character development goes. In the meantime:

Her devices are all Removable now, instead of Easily Removable, although they can still be disarmed as a complication. (The GM wasn't disarming them ever, so I felt it was unfair for me to keep getting the points discount.)
Her Expertise: Magic is no longer 50% Unreliable. Instead, as a complication her magical knowledge turns out to me misleading or incomplete.
As an AP of her magic array she has a Shapeable Area blast with Variable Descriptor 2 [any elemental] to represent her area attacks, instead of using Create for the area attack. 'Elemental' here means the four classical elements, fire/water/earth/air.

She still has 3 pp unspent and her complications are rewritten to be much more concise.

I've decided that Arilyn is an elementalism/enchantment sorceress with a dash of transformation, so her spells (other than her staff) are a combination of elemental powers and psychic stuff such as illusions and telekinesis. As a side effect, she can no longer stunt Teleport; if anyone asks, she saw something in the space between worlds the last time that warned her not to go back.
Arilyn
(3e, PL 5; 85PP)
Concept:
Sorceress
Tradeoffs:
Attack -1 / Save DC +1; Defense -1 / Toughness +1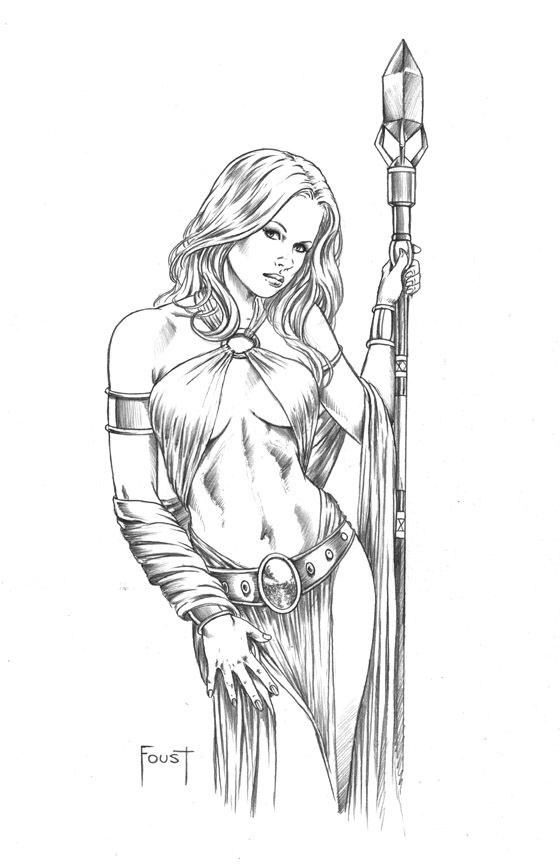 Art by
Mitch Foust
Complications
Secret
: Arilyn masquerades as a true sorceress when she isn't really one
Power Loss
: Arilyn can't cast without a specially designed sorceress' staff, which can be disarmed.
Miscast
: Arilyn didn't complete her studies, and her spells occasionally hit someone other than the intended target, or produce effects other than intended. Her magical knowledge may occasionally be incomplete or incorrect.
Culture
: Arilyn spent most of her childhood immersed in the culture of the High Arcanum, which says that if you have to rely on mundane tools you aren't hardcore enough to be in the magic business. She can't use or own Equipment.
Responsibility:
Arilyn has pledged her aid to Hamek's nearest kin or any ally his spirit deems worthy.
Motivation - Doing Good
: Ever year thousands of hopeful young apprentices depart for the High Arcanum, seeking to master its secrets for the good of the mortal world. Arilyn never let go of that youthful idealism, and she'll intervene whenever she sees someone in trouble - mundane or magical.
Abilities (20pp):
Strength
-1
, Stamina
0
, Agility
0
, Dexterity
2
, Fighting
0
, Intellect
4
, Awareness
2
, Presence
3
Powers (50pp):
"Ars Arcana"
ARRAY 18pp + 5pp (Removable -5pp) 18pp
BASE
"Magna Evocans"
Create 5
(Continuous +1, Precise, Variable Descriptor 2 [any magical])
-- AE
"Potens Elementarium"
Blast 5
(Area: Shapeable +1, Variable Descriptor 2 [any elemental])
-- AE
"Oculus Deorum"
Remote Sensing 8
[visual, auditory 3*r pp] (Defenseless when using -1, Subtle)
-- AE
"Phantasma Superba"
Illusion 4
[visual, auditory, 3*r pp] (Independent +1)
-- AE
"Mens Agitat Molem"
Move Object 5
(Perception +1, Precise, Subtle)
-- AE
"Lapis Philosophorum"
Transform 3
[Mass: 6 lbs; anything to anything, 5*r pp] (Accurate 3, Continuous +1, Distracting -1)
"Mysteria Adclaro"
Senses 2
Magical Awareness [visual] (Acute) 2pp
"Levitas"
Flight 1
(Subtle, Removable -1pp) 2pp
"Robes"
Protection 6
(Removable -1pp) 5pp
"Girdle"
Enhanced Fortitude 4
,
Enhanced Will 4
(Removable -2pp) 6pp
"Bracers"
Enhanced Dodge 4
,
Enhanced Parry 4
(Removable -2pp) 6pp
"Staff"
Blast 6
[magic] (Accurate, Affects Insubstantial 2, Activation: Move action -1pp, Removable -3pp) 11pp
Advantages (2pp):
Artificer, Eidetic Memory
Skills (10pp / 30r):
Expertise: Magic 6 (+10), Insight 7 (+9), Investigation 5 (+9), Perception 5 (+7), Persuasion 6 (+9), Treatment 1 (+5)
Offense:
Initiative +0
+4 Staff (Ranged, Damage, DC 21 Toughness; Affects Insubstantial)
-- Magna Evocans (Ranged Area, Create, DC 20 Toughness [dropped object])
-- Potens Elementarium (Ranged Area: Shapeable, Damage, DC 20 Toughness)
-- Phantasma Superba (Perception, Illusion, DC 14 Will)
-- Mens Agitat Molem (Perception, Move Object, DC 15 better of Str or Dodge)
+6 Lapis Philosophorum (Close, Transform, DC 13 Dodge)
Defense (0pp):
Dodge 0 (+4), Parry 0 (+4), Toughness +6, Fort 0 (+4), Will 0 (+6)
Abilities 20 + Powers 50 + Advantages 2 + Skills 10 + Defense 0 + Unspent 3 = 85