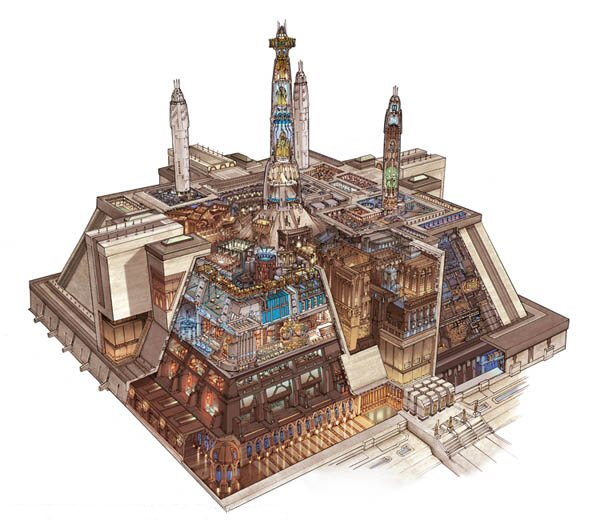 PL: 10
Name:
Jedi Temple, Size: Awesome (6), Toughness: 20 (7)
Features:
(12) Combat Simulator, Communications, Computer,
Gym, Hangar, Holding Cells, Infirmary, Laboratory, Library,
Living Space, Power System, Security System 1, Workshop
Powers:
None
Final Cost:
26
Notes:
The Jedi Temple is the central HQ of the Jedi Order.
It is an ancient structure that has been on Coruscant for ages.
This is mostly due to the sturdy construction of the Temple. It's
so sturdy that even the Jedi Purge of Order66 could not completely
destroy it. Instead its black burnt out remains stand as a stark
contrast to its former glorious image.
During the era of the republic it stood as a symbol of the Jedi.
Its grand gleaming white walls glistened in the sun. It's white
towers also negatively portray the complacent Jedi Order as living
in Ivory towers. The Jedi Temple was situated in a isolated area
on Coruscant which had little urbanization.
The Jedi Temple fulfills many purposes. It mainly serves as a
administrative center for the Jedi Order. Some Jedi live full
time at the temple. Training potential Jedi recruits also takes
place here. A holographic training room allows Jedi to train.
There is a workshop to construct Jedi Devices such as lightsabers.
A subterranean vault is used to store hallowed Jedi Artifacts as
well as more dangerous Sith items. A fully working Bacta Tank is
in the infirmary. There are some small holding cells to hold Sith
or other rogue force users. Various research labs are dedicated
to studying the force.
Finally the electronic Jedi Archives serves as the largest library
in the galaxy. Smaller and less sturdier Jedi temples are located
on other worlds.